Why Montessori?
C
hildren's House Montessori...
creating an individualized education
...
Maria Montessori was a revolutionary and a visionary in the field of education. She shifted the attention away from the traditional teacher-directed learning model to a learner-centered one. By recognizing a child's natural desire to learn and providing them with scientifically-designed materials, each child develops concentration, coordination, independence, and a regard for order.
At Children's House Montessori, our prepared environment describes much more than just a classroom and the work on the shelves. It includes our physical surroundings which are child-sized and child-focused, authentic Montessori materials to facilitate a child's learning, and an experienced, enthusiastic, trained guide who observes and facilitates each child's natural progress. All this in a peaceful, joyful, respectful community of peers.
Montessori Resources
V
ideos
Association Montessori International/USA Videos
B
ooks
The Hidden Hinge
by Rosa Packard
A guide for bringing Montessori into the home
How to Raise an Amazing Child, the Montessori Way
by Tim Seldin
The Science Behind the Genius
by Angeline Stoll Lillard
W
ebsites
American Montessori Society
American Montessori Foundation
North American Montessori Teachers' Association
Montessori Movers
Montessori Benefits
Each child learns at his/her own pace in a carefully prepared environment.
Materials are sequenced from the concrete to the abstract, allowing for repetition and success. Many materials are self-correcting.
Montessori helps a child develop focus, concentration, independence, and to learn and appreciate order in their work.
Teachers have a deep respect for children as unique individuals
Children learn with hands-on experiences and investigations
Classrooms encourage freedom of movement in a non-competitive environment
Montessori allows a child to have extended and uninterrupted work times to explore materials
Children learn self-discipline, an internal sense of purpose of motivation, and to be kind and peaceful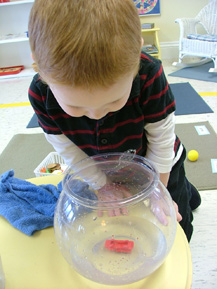 A
Montessori education helped to develop...
Larry Page and Sergy Brin...the co-founders of Google, Jacqueline Bouvier Kennedy Onassis, Anne Frank, Julia Child, T. Berry Brazelton, Princes William and Harry, Actress Helen Hunt, Chelsea Clinton, Jeff Bazos, founder of Amazon...
How will Montessori inspire your child?